Jpn. 4/12/17 Boruto Episode 2: "The Hokage's Son"




Shippuuden Episode 45 Airs
Posted by: Shikamaru @ 7:50 pm on 1/31/2008

Sai has turned traitor, will Orochimaru and Kabuto accept Sai?… Episode 045 is titled The Result of the Betrayal.

Click For Episode 045 Spoiler Preview Image:

You can view my comments and discuss this latest episode in our forums! Click here to view the discussion! Caution, there are spoilers present! If you are a new user and have yet to register to post on the forum, click here.

Comments Off

on Shippuuden Episode 45 Airs




Volume 41 Cover Released
Posted by: Shikamaru @ 8:37 am on

The cover for volume 41 has been released. As always, we'll have a larger scan once it is released to retailers.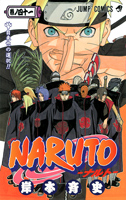 1 kunai thrown »

Chapter 386 Released
Posted by: Shikamaru @ 9:01 am on 1/25/2008

Chapter 386 has been released!


Click For Chapter 386 Spoiler Preview:

You can view my comments and discuss this latest chapter in our forums! Click here to view the discussion! Caution, there are spoilers present! If you are a new user and have yet to register to post on the forum, click here.

Comments Off

on Chapter 386 Released




Shippuuden Episode 44 Airs
Posted by: Shikamaru @ 1:17 pm on 1/24/2008

Yamato has stopped Naruto's rampage and Sai is finally making his move, will it prove dangerous to Konoha?… Episode 044 is titled Facts of the Fight.

Click For Episode 044 Spoiler Preview Image:

You can view my comments and discuss this latest episode in our forums! Click here to view the discussion! Caution, there are spoilers present! If you are a new user and have yet to register to post on the forum, click here.

Comments Off

on Shippuuden Episode 44 Airs




Chapter 385 Released
Posted by: Shikamaru @ 8:19 am on 1/18/2008

Shonen Jump's long break is over, Chapter 385 has been released!


Click For Chapter 385 Spoiler Preview:

You can view my comments and discuss this latest chapter in our forums! Click here to view the discussion! Caution, there are spoilers present! If you are a new user and have yet to register to post on the forum, click here.

Comments Off

on Chapter 385 Released




Shippuuden Episode 43 Airs
Posted by: Shikamaru @ 3:06 pm on 1/17/2008

Naruto has lost all control of his powerful new form, will he prove a danger to his nearby friends?… Episode 043 is titled Sakura's Tears.

Click For Episode 043 Spoiler Preview Image:

You can view my comments and discuss this latest episode in our forums! Click here to view the discussion! Caution, there are spoilers present! If you are a new user and have yet to register to post on the forum, click here.

Comments Off

on Shippuuden Episode 43 Airs




Next Page »

News Archives:
2018
2017
2016
2015
2014
2013
2012
2011
2010
2009
2008
2007
2006
2005
Powered by WordPress